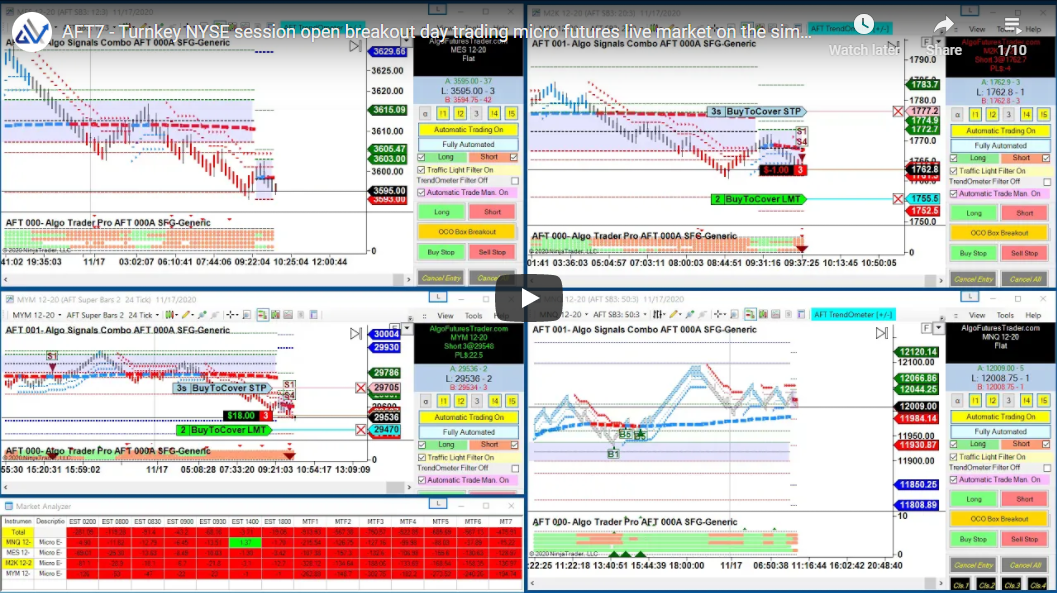 YES! AFT is 100% free forever for trading all futures for sim, demo, replay testing, evaluation & practice
So what does free trading systems really mean?
AFT is free forever for both sim and live versions of the NinjaTrader Platform - when in Global Simulation Mode: On
AFT Live Trading License only required for real money live account trading - when in Global Simulation Mode: Off 
AFT Free version will continue to work with live trading modes of NinjaTrader, some features will be disabled:

AFT indicator Signals & Alerts
TrendOmeter display
Live account real money algo trading
* Note: If your Trade Capital provider is not listed simply contact us via support so we can enable it for your free evaluation trading. 1 month ultimate license with renewal , simply send a screenshot of the account and system to qualify etc.
For more information about trade capital evaluation licensing please view the following link-  AFT Licensing Info evaluation trading
Trading & Risk 101

Trading is simple but not easy, please do it safely and don't rush, it takes a lot of practice & stoicism, wining and losing cycles are expected!  5 quick tips to consider! 
Impatience: FOMO - Fear of missing out, never rush to live money trade! Get consistent success sim trading 1 to 3 months then decide.
Trade Capital: Get funded to day trade futures with a trading capital provider, no need to use your funds learning to trade.
Micro Futures: Start with the smallest futures instruments such as Micro lots 1 to 3 lots to scale out
Risk: Always use the smallest risk position sizing possible for example 1% or less of trade capital per trade
Trade a plan: Don't chase the market or over-trade, focus on a systematic approach get consistent, trade the plan &  keep stats.
Learn & Trade risk free on the sim, demo account in NinjaTrader for free forever - AFT has no time limit, when you are ready and have proven to yourself that you are able to be successful at your own pace, you can consider live trading futures with AFT and NinjaTrader at your own discretion. Accelerate learning with a 1 to 1 day trading futures coaching but even then don't rush to live trade, put the learning into practice attend our  Free Futures Day Trading Group  for live market coaching voice and streaming at 9AM EST to 11.30 EST Mon to Fri.
Winning & Losing Cycles. You need to experience at least 1 to  3 months to see the typical cycles of the market and news cycles weeks of the months. You might start on a winning cycle on sim and suffer from recency bias, thinking its always easy to trade and rush to go live only to get hit by a losing cycle in live money trading and then pull the plug and freak out then you will miss the next winning cycle taking all the losers and missing all the winners the double whammy of trading! 
There is No short cut,  it takes time,  get a routine, practice and wait  until you are consistent month to month on the sim at your discretion and then consider live money,  or if you are certain sure you got the ability at the start, at the very least get funded to trade with a 3rd party trading capital so they take the risk...!  You may well catch a longer term easy phase of trading from the get go, and make good but eventually it will happen you will get a drawdown and a string of loses...losing days and even weeks may occur but if you the trader are consistent over the long term month to month you can succeed.
---
GET STARTED 100% FREE Day Trading Futures with AFT & NinjaTrader
Learn to trade risk free Sim, Demo, Test, Replay & Practice account trading , work part time or full time day trading futures from your home or office using the NinjaTrader Free Trade Platform with AFT turnkey trading system settings and workspaces, simply download, install, connect and trade. When you have learned to
day trade futures consistently
, at your discretion you can get
getting funded to trade futures
or visit
NinjaTrader Brokerage
for more details for personal trading accounts.
Plug and Trade - Turnkey Trading Systems for day trading futures
Simply Install, Connect & Trade. Learn and practice risk free on the NinjaTrader trading simulator with ready to use turnkey settings and workspaces for Session Open Breakout trading and Trend Trading reversal and pullback continuation trading. Start NinjaTrader, connect to a futures data feed & open an AFT Turnkey workspace, the trading systems will appear on chart and are ready for simulator trading micro equity Index futures.
NinjaTrader and AFT Quick Start Guidance
PLEASE NOTE: for installation, setup, trouble-shooting and how to use AFT features please see:
---
NinjaTrader is a FREE trade platform for advanced charting, market analytics, development & simulation FREE trading platform, free demo account, free real time data, no risk, no funds required!
1. GET STARTED CLICK HERE TO GET YOUR FREE NINJATRADER PLATFORM & FREE DATA DEMO
---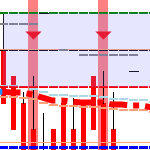 100% Free for Sim
, Demo, Test, Replay NinjaTrader Algorithmic automated trading systems for day trading Futures Session Open Breakout, Trend Reversal, Pullback Continuation, OCO Breakout/News Event, Momentum Trading.
2. GET STARTED CLICK HERE TO GET YOUR NINJATRADER ALGORITHMIC TRADING SYSTEMS
---
AFT Sales, Support & Help Guidance
Connect to AFT
For webinars, free trading tips, tricks, videos guides, news & product updates and upgrades to for the AFT8 pending release please connect to us below for announcements.
Note when signing to the Blog/News List the system will send 1 email of the weekly round up 1 per week if any news posts are made. For Webinars and promos we might send a separate mail to the news letter list.