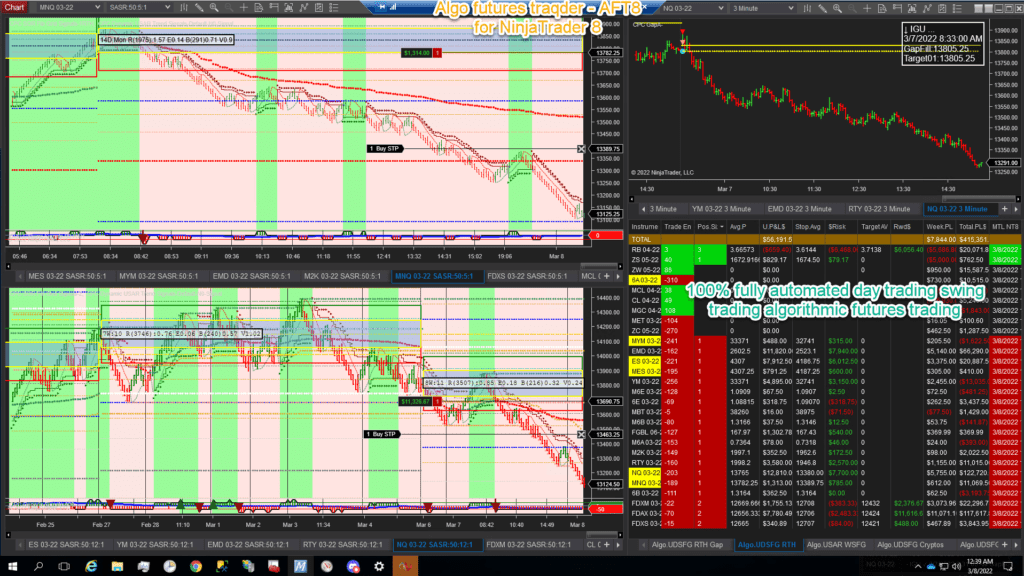 100% fully automated algorithmic live market trading stats
AFT transparency means you are welcome to attend the futures trading group free and see the 100% fully automated AFT8 server edition algorithmic trading systems in live market trading 24/7 live money and sim in real-time. Stats are uploaded to the Stats websites straight from the system and are checked and reconciled with what is seen in the Trade Platform and any relevant brokerage statements.
Note: Stats, what they mean, general methods, ideas updates are discussed in the ATS trading room:
Group and Algo setup is only been in effect with new system since June 2021 so the room plan and stats would be forwards from there we do no rate back-tests so we don't cheat ourselves or you and fill our data with historical hypothetical stats-all our stats are based on live market trading in live money trading or in paper sim trading tests and the good the bad the ugly is all kept in view so we can learn and evolve from baselines add variants and compare back on the web https://alphawebtrader.com/Stats and these are updated everyday by an automated stats system.
Live verifiable trades are only available in audited accounts in a hedge fund or a CTFC managed futures fund so that would pose a problem as we are software company and show them on a server in real-time with sim and some micro futures algo live money trading we stream – that's as good as verified it can be for now.
All stats shown are either live money trading account or paper trading Realtime live market trading, paper trading accounts will all the prefix "Sim". We do not show back tests here, back-tests were conducted for years back but that only shows if the systems are at all tenable – so then the next stage is the pre-production and production, so we have no interest in back-tests only live market sim paper trading walk forwards testing and live real money trading stats.
So we have stats for the latest base line systems here which can be seen in live trading real-time and some real-time live money trading systems but as we are only going since June 2021 its not far yet but also factor in we evolve such as self optimizing bars and reset to 0 from there… and go again and archive the old systems stats and now we have our next gen. AFT8 stats pending
The day trading group by AFT Trader John and the Hybrid live trading room uses discretionary over the mechanical, pilot and plane approach with different toolsets – gaps, alphabias and many other more advanced tools and more advanced methods are available for traders who have grasped the fundamentals to being with – the end result then is when its not pure algos its very hard to assess stats, everyone is bit different in how they trade it and also their setup and risk so how would a set of 1 traders stats work for another – the answer they don't, the trader needs to work in their own way- we plan to roll out a live trade capital provided account for John to show his trades taken in the room with AFT8 so watch this space for that also.
Live Money Trading Systems on Baseline Systems
These systems are still raw baseline non optimized 1st gen systems which show the premise of signal and instrument. To test the functionality of systems and the validity of signals we put our money where out mouth is with some real money live trading for real stats with real trades and pre-production live market paper sim account trading for the most accurate stats until live trading. System reports for US Indices Futures EMini, Micro Equity Indices, Eurex & Energy trading systems all 100% fully automated -even the server is automated and self starts itself each week, then starts NinjaTrader, downloads data, opens workspaces, starts the algos, self corrects stuck orders and anomalies makes safe any contract rollovers and can continue for months a true automated system which can carry on where it left of or self correct and start up as a human would do.
Current Live future algorithmic trading systems – micro futures
Gap Trader/Energy Trader model account live trading started 08/August/2022. FDXS Micro Dax, M2k Micro Russell 2000 and MCL Micro Oil Futures Energy Trader
FDXS Micro Dax Futured – Gap Trader Variant
Traded from November 2021 to Mid 2022 – halted at 100% profit 5K on a 5K account
100% fully automated live real money trading since November 2021, yet to be optimized and serves as a baseline to prove a point of some tenability of system signal and premise.
The algo is super basic and will trade in rain and shine and trade when any savvy trader will be on the side in time optimizations will occur and check back to the baseline sim model
The intention in time on is to add in a small basket of micro futures alongside when the dust settles from systems development and so on – focus will be on optimizing and setting up more live money systems trading etc.
STATS Reports P&L Eurex Mini and Micro Dax 100% fully Automated USAR DSFG Gap Trader
Futures Algo Trading Emini/Micro Fund
100% fully automated algorithmic live market real-time paper trading stats. The following systems are often considered by traders who elect to use the managed algorithmic trading system services
Emini Fund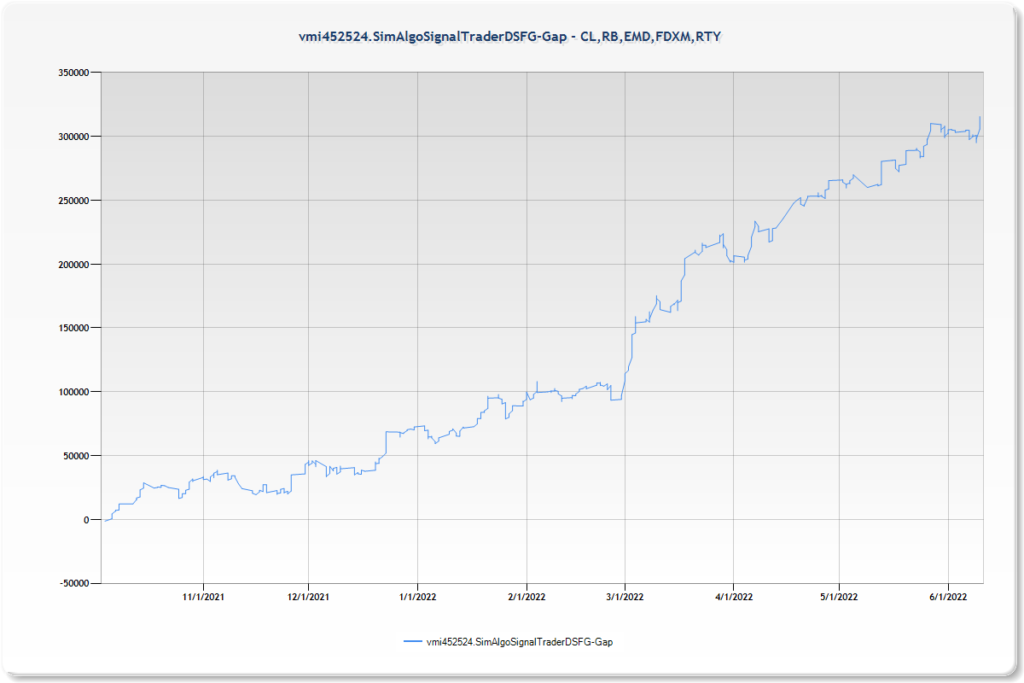 Micro Fund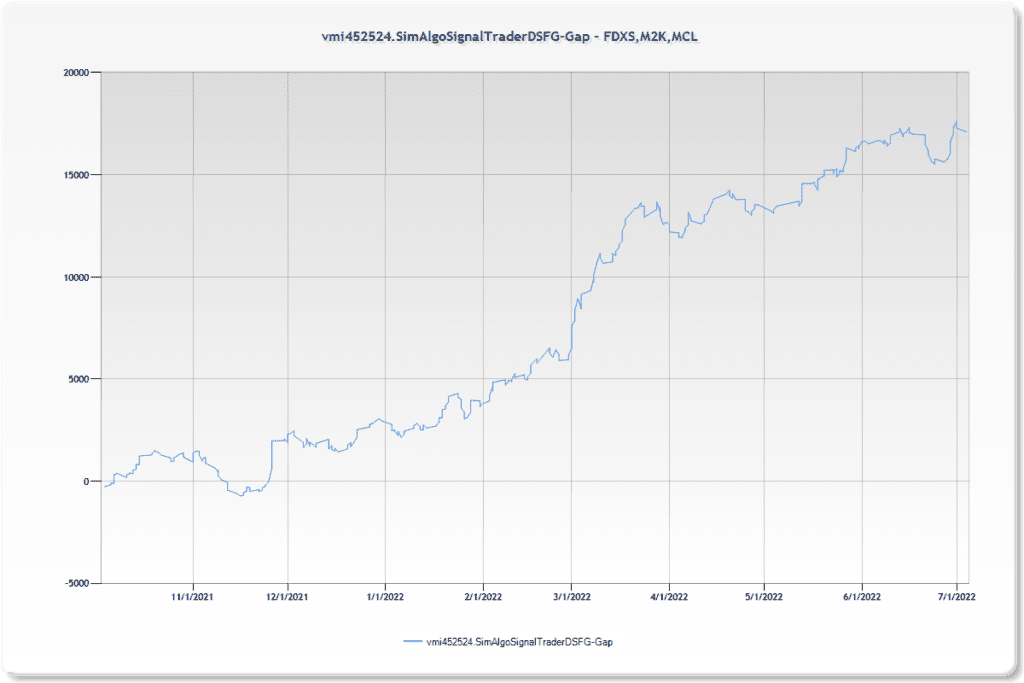 Stats for trading systems and signals
Baseline Algo Trading Systems Stats
Baseline 100% fully Automatic Algo Trading Systems Live Market Realtime Simulation Tests, no optimizations – pure baseline reality, all the thrills and spills, all the good and all the bad, full transparency for informational purposes, taking all signals regardless. A baseline is simply set into motion with a sensible premise and traded to see the information it provides, this is key control view for the purpose of providing insight into market cycle and instrument probability rating and gauging signal and system raw quality, from these views our latter optimized systems, variants will run in parallels and we can compare back to the baseline. See below sections for BaseLine Stats:
These stats are related to the signal type – «Algo» as seen in the realtime signals for more information view systems
Variant Algo Trading Systems Stats
100% fully Automatic Algo Trading Systems Live Market Realtime Simulation Tests of Variant systems, modified baseline system tests.
Variant System: SimAlgoSignalTraderDSFG-Gap (USAR DSFG GAP)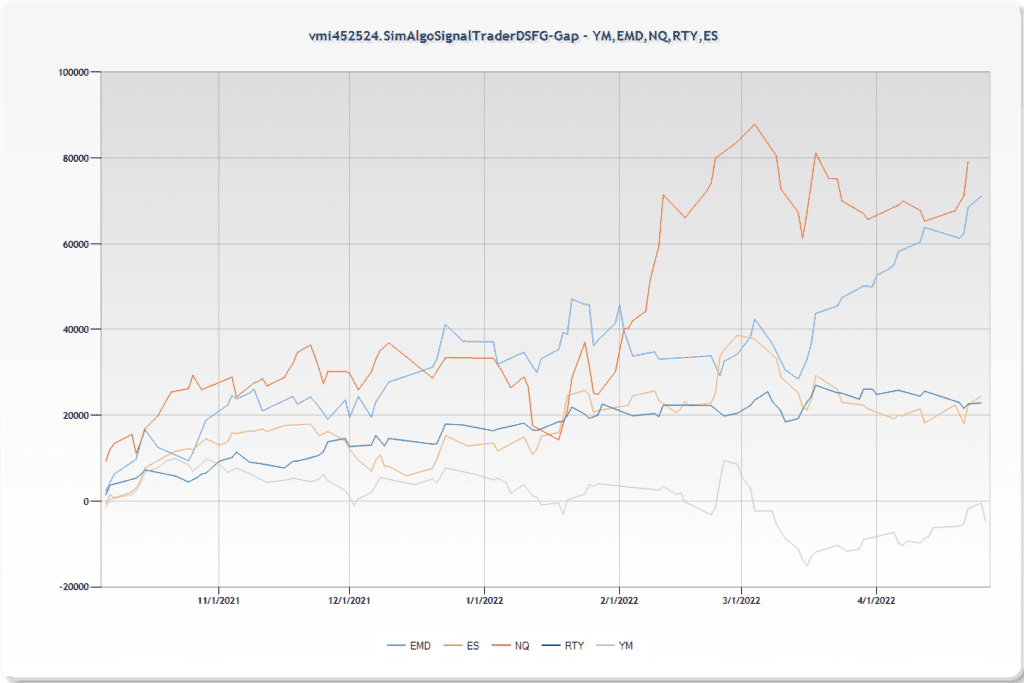 Daily Session Fib Grid (DSFG) Breakout Trader with RTH Gap Filter- a variant of the USAR DSFG baseline, using Self optimizing bars – each system session starts at regular trading hours for each instrument – 3 lots – 3 brackets 1, 1, 1 – dynamic stoploss and targets
Baseline System: SimAlgoSignalTraderDSFG – (USAR DSFG)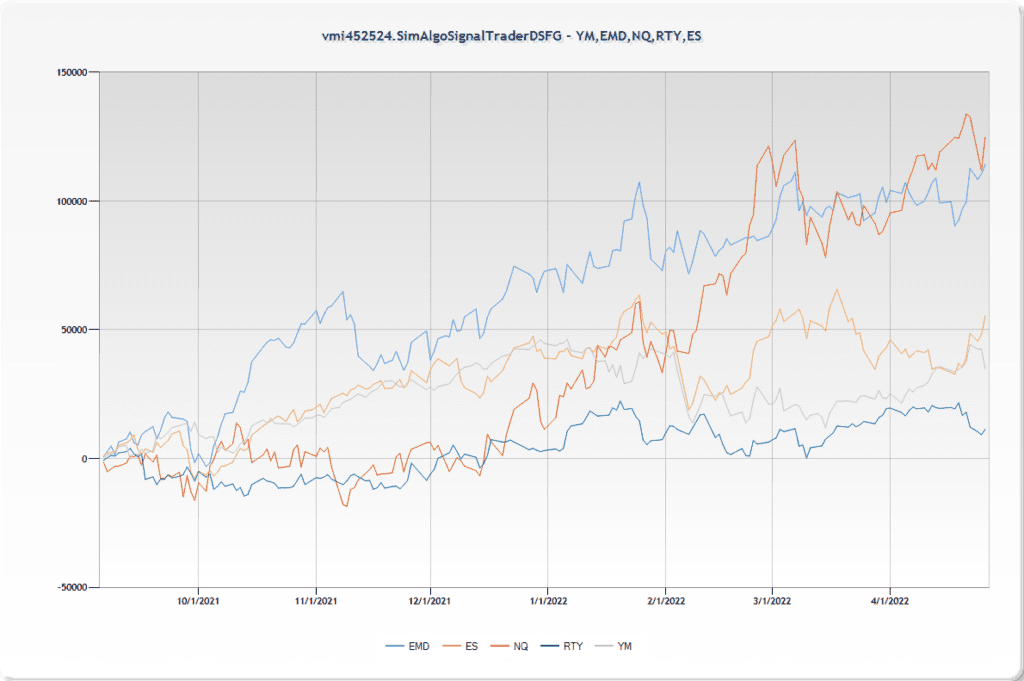 Daily Session Fib Grid (DSFG) Breakout Trader – USAR Combo, using Self optimizing bars – each system session starts at regular trading hours for each instrument – 3 lots – 3 brackets 1, 1, 1 – dynamic stoploss and targets
Baseline System: SimAlgoSignalTraderEnergy – (USAR DSFG E)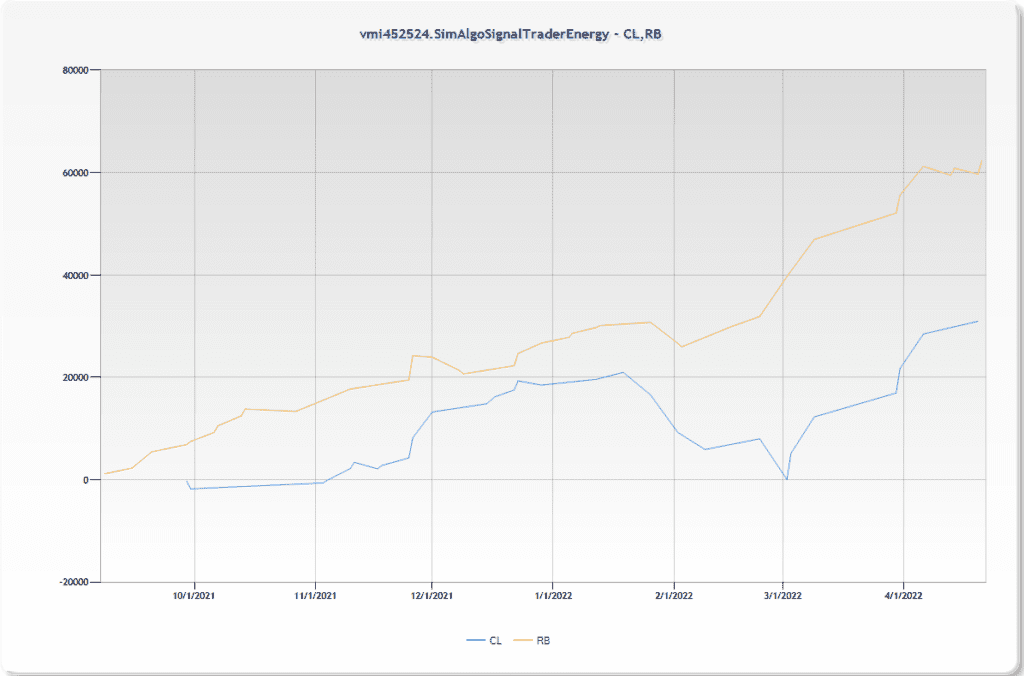 Daily Session Fib Grid (DSFG) Breakout Trader to align with the Wednesday crude report at 9.30CT and only trade on the wednesday- USAR Combo, using Self optimizing bars – each system session starts at regular trading hours for each instrument – 3 lots – 3 brackets 1, 1, 1 – dynamic stoploss and targets
Baseline System: SimAlgoSignalTraderCryptos – (USAR DSFG Cryptos)
Daily Session Fib Grid (DSFG) Breakout Trader – USAR Combo, using Self optimizing bars – each system session starts at regular trading hours for each instrument – 3 lots – 3 brackets 1, 1, 1 – dynamic stoploss and targets
Training & Help Resources
Learn to trade successfully at your on pace with no time limits, use self-assisted support tools, visit the trading group for live market mentoring in the daily private group trade along, group chat & support forum or contact our support help desk