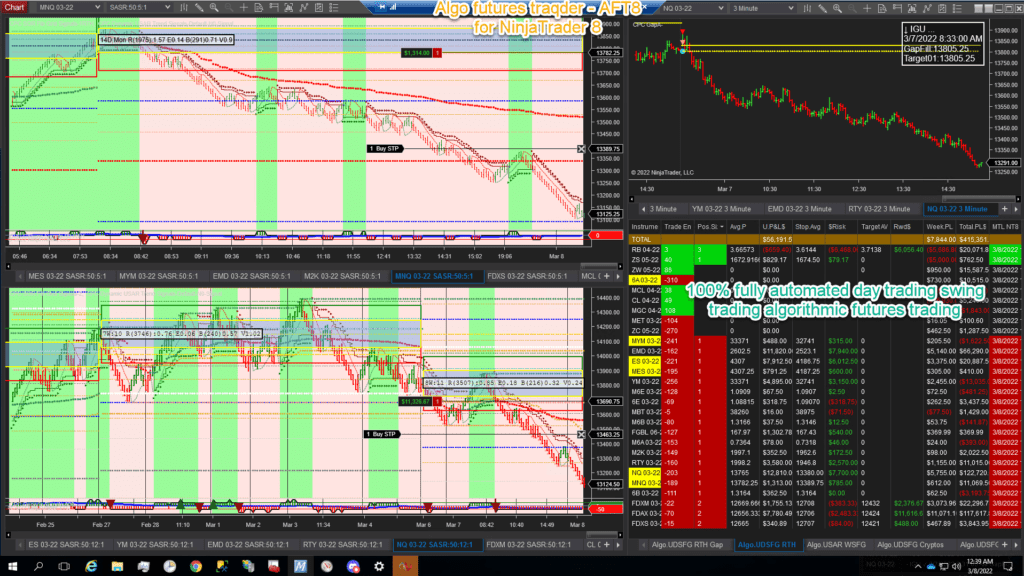 Hybrid and Fully Automated Algorithmic futures emini micro day and swing trading systems for NinjaTrader
AlgoFuturesTrader (AFT) is a NinjaTrader plugin, a purpose-built specialist algorithmic futures day trading proprietary trading system providing multiple algorithmic models such as: trend following, trend pullback continuation, session open range breakout system, OCO Breakout/News Trading, Momentum Trend Trading. Hybrid semi-autonomous trade entry & fully automatic trade management system for Micro/EMini futures trading for the NinjaTrader 7 and NinjaTrader 8 trade platform, built with institutional grade day trading futures trade engine by a real deal algo trader & quantitative developer.
AFT is a multi-algorithmic signal multiple timeframe trader

Algo Trade Entry modes Supported are Manual, Semi Automatic and Fully automatic

Algo Trend Manager Modes: Fully automatic and real-time interactive NinjaBuddy UI
AFT is a hybrid fully/semi automated day trading system for the NinjaTrader Trade Platform.
Hybrid means you can manually place a trade, semi automatically trade the next trade and stop or fully automatically take all until your money management cash goals are met or session ends. AFT was designed & built by the pioneer of hybrid trading systems for NinjaTrader, developer & professional algo trader Tom Leeson of MicroTrends.
AFT is the NinjaTrader ultimate trading system plugin for traders who are looking to day trade futures with a professional fully or semi automated trade entry system with fully automated trade, order, position, risk and money management.
AFT is a mature battle tested complete trading methodology & trade automation technology, is the only purpose built Hybrid Semi/Fully Automated Trading System for the NinjaTrader Free Trade Platform providing popular micros futures trading free for demo/sim trading risk free with no time limit or pressure. You get to learn to trade in your own time and decide if you are good enough to live trade with no nonsense trading tools and support.
AFT Automated Algorithmic Trading Systems developed by MicroTrends Limited for Algo Trading Systems LLC for retail day trading and swing trader futures in hybrid mode or fully automated mode.
---
Algo Futures Trader 8 for NinjaTrader 8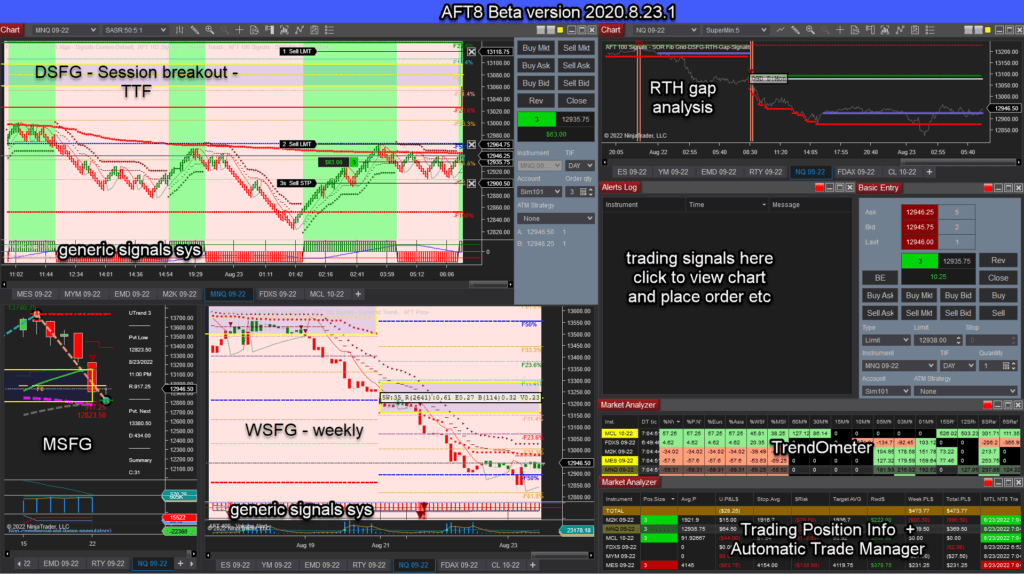 Algo Futures Trader (AFT8) for NinjaTrader
Year: 2021 NinjaTrader 8
Current Active development, Long term Development & support
Professional level 100% Full Automation, Stop, Start continue, Full Swing/Position trading Capability, Hybrid Interactive Automation, Fault tolerant Self Healing. Dual tech providing Strategy for Back testing/Optimization and the core NT8 API Algorithmic Trader providing the most advanced Level of Automation ever for NinjaTrader.
Pros
The best of both worlds Hybrid attended fully interactive trading and the highest possible level of fully automated unattended modes of algorithmic trading.
100% free for sim/demo, evaluation trading – no time limits, trading group daily session coaching and mentoring, support, and resources.
Disruptive Pricing, is super cheap and flexible for high quality – higher level of unattended fully automated features the most advanced system ever written for NinjaTrader 8 and retail platforms for rock bottom disruptive pricing.
Stats
AFT Algo trading Systems Stats
Technology
AFT8 has taken the core premise of the AFT7 system and then combined this with a hedge fund futures 100% unattended trading futures portfolio algorithmic system foundation battle tested in live fund swing trading evolved since 2017 at the costs of several 100Ks USD in development and testing up to 2022 with long term dev and support phases- This cloud trading system leases for 4K per month to commercial fund/trading only available as a managed cloud trading system.
For AFT8 retail desktop a smaller subset of the commercial hedge fund system is used within the NinjaTrader 8 platform, minus all the cloud dependencies and features not required for retail day/swing trading, delivering a set of core trading elements, merged in and combined with the same premise as the AFT7 Hybrid approach possible for those who want it but also providing pure real algorithmic automated trading at a level never attained before by NinjaTrader vendor products, plus additional algos and features a whole new concept allowing portfolio trading – making it possible for a professional level of trading with NinjaTrader not previously possible.
Key Points
The highest level of Automation ever. Real deal automation several levels above all the prior NinjaTrader products below, allows AWT API access and integration –
100% fully automated -even the server is automated and self-starts itself each week, then starts NinjaTrader, downloads data, opens workspaces, starts the algos, self corrects stuck orders and anomalies makes safe any contract rollovers and can continue for months a true automated system which can carry on where it left of or self-correct and start up as a human would do. See AFT8 for more details.
Supports multiple entry position compounding and multiple scale outs:
The only real deal original NinjaTrader system providing true multi-day/ multi-week/ multi month trading capability for day, swing trading futures
AFT8 Will provide strategy back testing components via the ATS QuadroStrategyBase but trading uses the professional layers of the NT8 API to bypass those limitations.
AFT8 Algorithmic Trading System is suitable for Day traders & swing traders used in a hybrid man and machine mode or as fully automated.
Remote Cloud view & control Pending
Pending features When run on a server or desktop it will be possible to see what the Algo is doing and control the systems from a web/mobile therefore reducing the need for more than 1 system and reducing server/ platforms/data fees.
---
Algo Futures Trader 7 for NinjaTrader 7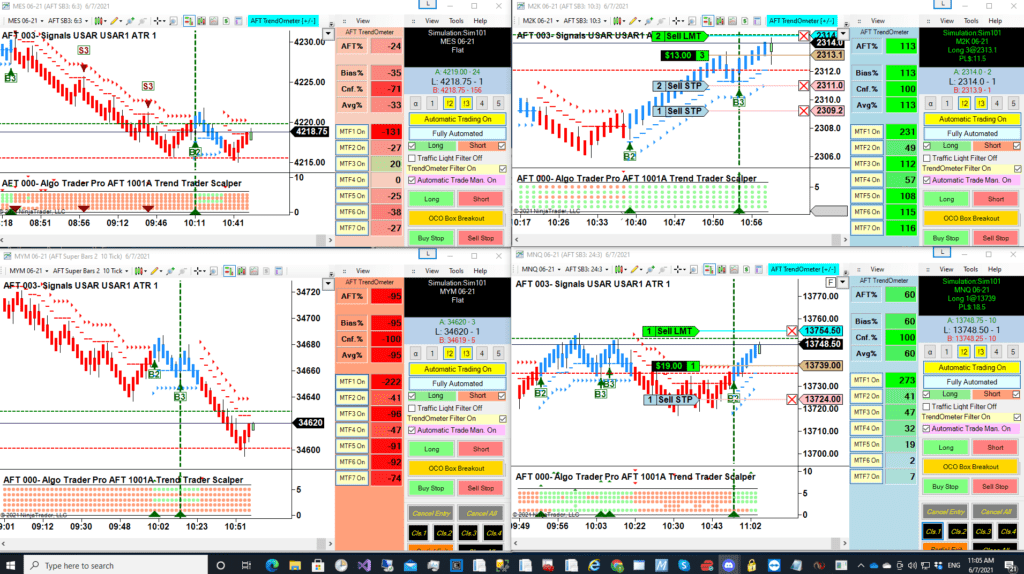 Algo Futures Trader (AFT7) for NinjaTrader 7Vendor/ProductPlatformStatusAutomationAlgo Trading Systems LLC, AlgoFuturesTrader 7 (AFT7)
Year: 2018 NinjaTrader 7
Discontinued Development, Long term support, Obselete Tech.
Hybrid Semi/Fully Automation with Attendance, Stop, Start continue. NT7 API Algorithmic Trader
Pros
The best of the hybrid trading world for NinjaTrader 7 interactive real-time algo trading. 100% free for sim/demo, evaluation trading – no time limits, trading group daily session coaching and mentoring, support, and resources. Pricing is disruptive for the best qualit, at cheapest and flexible price points.
Used by developer for trading, battle tested proven with many traders obtaining trading capital accounts.
Hybrid NYSE session breakout/trend trading Purpose designed and developed for the NYSE Eminis, Energy trading and popular futures day traders- using the most advanced system ever built for NinjaTrader 7 built from the ground up after many prior iterations/products as below by MicroTrends.
Technology
Hybrid Automated trading, stop start continue trading – can continue where it left off after a restart, manual and fully automated. Multiple algo multi timeframe day, swing trading system -designed for trend trading, session open breakout, oco news breakout with real-time interaction with a trade manager Trade GUI – takes all prior products and white labels to the next level. Emphasis is on automated features in attendance for optimal and most reliable usage scenarios for human intervention and interaction for best trading outcomes – man and machine.
Key Points
NT7 API Algorithmic trading, bypasses the Strategy layers and therefore does not suffer the limitation of the even the most advanced NinjaTrader strategy – uses an API direct within NinjaTrader to provide the highest reliability, quality, and flexibility for NT7.
Cons
Manual back test only no FULL strategy testing.
No automatic trading stats produced
---
What is an Automated Trading System or Algorithmic Trading System?
An automated trading system (ATS) is a computer program that creates orders and automatically submits them to a market center or exchange. Automated trading systems are often used with electronic trading in automated market centers, including electronic communication networks, "dark pools", and automated exchanges.[1] Automated trading systems and electronic trading platforms can execute repetitive tasks at speeds with orders of magnitude greater than any human equivalent. Traditional risk controls and safeguards that relied on human judgment and manual speeds that were appropriate to manual and/or floor-based trading environments, must now be automated to evaluate and control automated trading.[2]Automated trading – also known as algorithmic trading – is the use of algorithms for making trade orders. If you want to set up automated trading, you will need an automated trading system. You can then set up the rules that you want the automated trading system to follow, based on common variables like price and volume or on technical indicators like moving averages or Bollinger bands. The trading strategy you set up can be as simple or as complicated as you want, but truly advanced strategies can require learning the programming language associated with your automated trading system.
From Wikipedia, the free encyclopedia
---
GET STARTED 100% FREE Day Trading Futures with AFT & NinjaTrader
Learn to trade risk free Sim, Demo, Test, Replay & Practice account trading , work part time or full time day trading futures from your home or office using the NinjaTrader Free Trade Platform with AFT turnkey trading system settings and workspaces, simply download, install, connect and trade. When you have learned to
day trade futures consistently
, at your discretion you can get
getting funded to trade futures
or visit
NinjaTrader Brokerage
for more details for personal trading accounts.
Plug and Trade - Turnkey Trading Systems for day trading futures
Simply Install, Connect & Trade. Learn and practice risk free on the NinjaTrader trading simulator with ready to use turnkey settings and workspaces for Session Open Breakout trading and Trend Trading reversal and pullback continuation trading. Start NinjaTrader, connect to a futures data feed & open an AFT Turnkey workspace, the trading systems will appear on chart and are ready for simulator trading micro equity Index futures.
---
NinjaTrader is a FREE trade platform for advanced charting, market analytics, development & simulation FREE trading platform, free demo account, free real time data, no risk, no funds required!
1. GET STARTED CLICK HERE TO GET YOUR FREE NINJATRADER PLATFORM & FREE DATA DEMO
---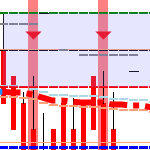 100% Free for Sim
, Demo, Test, Replay NinjaTrader Algorithmic automated trading systems for day trading Futures Session Open Breakout, Trend Reversal, Pullback Continuation, OCO Breakout/News Event, Momentum Trading.
2. GET STARTED CLICK HERE TO GET YOUR NINJATRADER ALGORITHMIC TRADING SYSTEMS
---
AFT concierge "Optional" services
, let us get you started, installed & setup NinjaTrader & AFT Workspaces ready for trading! Simply chose the service want us to provision for you, install, configure, connection & turnkey workspaces.
3. GET STARTED CLICK HERE TO GET SETUP & STARTED TRADING WITH CONCIERGE SERVICES
Training & Help Resources
Learn to trade successfully at your own pace with no time limits, use self-assisted support tools, visit the trading group, for group chat & support forum, or contact the support help desk.