Welcome to the AFT Family! Since June 2021 by popular demand AFT Trading Group is free and accessible on discord by windows, mac, linux and apple, android and web – inside we have the Algo Futures Trading systems and toolsets including real-time trading signals and 100% fully automatic algo signal trading systems with real-time trading live market stats in a screen-share as well as channels for the AFT trading system for NinjaTrader. The AFT Trading Group is accessible 24/7 and members are encouraged to interact, the screen sharing and algo trading signals start around 8 to 8.30 CT.
Trading & Risk 101

Trading is simple but not easy, please do it safely and don't rush, it takes a lot of practice & stoicism, wining and losing cycles are expected!  5 quick tips to consider! 
Impatience: FOMO - Fear of missing out, never rush to live money trade! Get consistent success sim trading 1 to 3 months then decide.
Trade Capital: Get funded to day trade futures with a trading capital provider, no need to use your funds learning to trade.
Micro Futures: Start with the smallest futures instruments such as Micro lots 1 to 3 lots to scale out
Risk: Always use the smallest risk position sizing possible for example 1% or less of trade capital per trade
Trade a plan: Don't chase the market or over-trade, focus on a systematic approach get consistent, trade the plan &  keep stats.
Learn & Trade risk free on the sim, demo account in NinjaTrader for free forever - AFT has no time limit, when you are ready and have proven to yourself that you are able to be successful at your own pace, you can consider live trading futures with AFT and NinjaTrader at your own discretion. Accelerate learning with a 1 to 1 day trading futures coaching but even then don't rush to live trade, put the learning into practice attend our  Free Futures Day Trading Group  for live market coaching voice and streaming at 9AM EST to 11.30 EST Mon to Fri.
Winning & Losing Cycles. You need to experience at least 1 to  3 months to see the typical cycles of the market and news cycles weeks of the months. You might start on a winning cycle on sim and suffer from recency bias, thinking its always easy to trade and rush to go live only to get hit by a losing cycle in live money trading and then pull the plug and freak out then you will miss the next winning cycle taking all the losers and missing all the winners the double whammy of trading! 
There is No short cut,  it takes time,  get a routine, practice and wait  until you are consistent month to month on the sim at your discretion and then consider live money,  or if you are certain sure you got the ability at the start, at the very least get funded to trade with a 3rd party trading capital so they take the risk...!  You may well catch a longer term easy phase of trading from the get go, and make good but eventually it will happen you will get a drawdown and a string of loses...losing days and even weeks may occur but if you the trader are consistent over the long term month to month you can succeed.
Click the link to view and step inside and see what we have for you. You might be surprised as its not just AFT8 its a whole lot more. I have listed basically what you see from the Welcome and Rules channel you will first see when entering as of 2020-June-19 and this is subject to change and evolve.

FREE trading group access: Live Market Trading commentary calls and mentoring.
The 5 step Basic Day Trading Approach for NYSE Session Breakout
1) Get to the desk before the open… 9am EST or so – check news
2) Check the 4 main indices and see what happened prior… look to see what gaps are forming
3) Armed with that if the gaps are all different or all the same for example… GapBias
4)Look at the alphabias… etc understand the strength of the instruments going into the open to make a selection of what to trade
5) Trading 9.30EST to around 11.30EST 1 to 3 signals per day – Signal + filters
AFT Algo Signals Server – screen-share every NYSE AM to PM
Cloud Trading Signals Apps
AFT Algo Signal Server Stats
AFT Alpha Bias – Trend Correlation
Trading Chart Screenshots

Monthly MSFG Higher Time Frame
Weekly WSFG USAR Algo Signal charts
Daily DSFG USAR Algo Signal charts

Trading Webinars/Coaching – pending
Please note there is much more information on the above inside the room simply click the link to enter – Note we recommend downloading the discord app for desktop or phone.

Algo Trading Signals Server: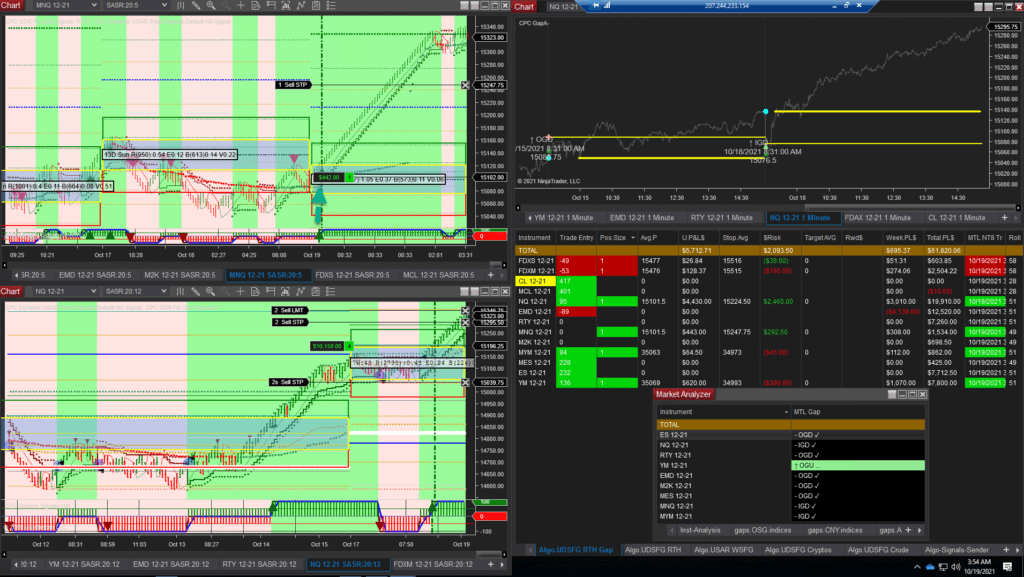 The AFT Algo Signals Server – is a live real-time live market trading server using NinjaTrader 8 – 100% fully automated hedge fund swing trading system with day trading settings with a AFT Style daily session breakout system fully automated- streamed live in the AFT Charts & Screen share channel.

AFT8 will contain a subset of some of this technology. Click on the user sharing the screen "Live" to see it.
Algo Trading every AM to PM for the NYSE -head there during the NYSE session to see the system working. Screenshare of live market automated trading NYSE breakout with DSFG USAR combo
TimeZone
Algo Server time is Central Time.
Session Breakout Day Trading System
All technical stops and targets – same for all. everything is based around the Grid Approx Grid Level 12% stop T1 F33%/-f33% – 2 Lots T2- F66%/-F66% -1 Lots T3- Runner – 1 Lot Note: These can be pushed out by the entry price and signal type
Session Times
Indices Equity Futures: Trade Entry is between 8.30 to 14:30 CT – Trades are exited at 14:55 CT
Energy Futures: Trade Entry is between 8.30 to 14:30 CT – Trades are exited at 14:55 CT
Currencies: Trade Entry is between 8.30 to 14:30 CT – Trades are exited at 14:55 CT
Grains: Trade Entry is between 8.30 to 13:00 CT – Trades are exited at 13:15 CT
Session Breakout swing Cryptos
BTC,ETH, are traded in a large separate account as they would distort the view too much in the other account with micros. Crypto Trades are take anytime mon to fri and exited Friday 15:00CT so you can receive signals for Cryptos 24/5

Cloud Algo Trading Signals

Web Trading Signals

Don't forget cloud trading signals to your desktop in the trade software downloads – this windows console app simply receives signals as traded by the algo server in real-time – and presents them in the screen with a audio alert. These signals could be traded by a trade platform via the API using an Azure Service Bus client in .net core to any operating system – windows, mac, linux or mobile. These Trading Signals systems can be seen live on the server as to the rules and how they are generated on the server and the statistics.

AFT Algo Trade Signals Live Market Realtime Trading Stats on Sim Account
Stats are automatically uploaded to the web and viewable there after every session they are updated and can be accessed. We can also show the NinjaTrader 8 Algorithmic trading signals stats alongside to verify the accuracy.
AFT Alpha Bias – Trend Correlation


AFT Group is Free
So the AFT trading group we made this free following the same ethos of the software -free for sim etc. There will be some premium features, not free but not expensive – room to grow- for example maybe a group trading coaching session and trade along with a subscription or real-time trading signals services versus free slightly delayed etc. Time will reveal exactly what shape it all takes and the group involvement will help to shape it.
A keen and valued AFT trader suggested we had a group and introduced me to discord which was made for gamers, well to be honest trading is game and even the software is perhaps adult space invaders but with real money for the points, so its an easy transition for discord for traders. I checked it out and all the stars all aligned at that instant and shone through the top of the pyramid and lit up my trading room and so here it is:
Accept reality and agree to work with it
We keep it transparent & real, lets always deal with reality and agree to work with reality from herein, lets not advertise some spaceship that will teleport us to financial nirvana overnight, people will come and go and some will like it and stay and that's all good, this is a seedling soft open new group…with new tools and ideas and the focus is medium to long terms gains and consistency with near term interactions.
The super plus side amongst others for me is I will be forced to take an interest in the NYSE session and ultimately get past my humongous mountain of coding and start to focus on my needs as a trader rather than being tied to the commercial trading agendas of funds and others who have taken up a good 5 years of focus of my time and id rather focus on 1 to 3 hours per day and get back in the day trading matrix – but in fact do both keep the swing trading commercial funds algo's going and the day trading and base it all from a common set of components and features – less work and better life style.
With this additional AFT Trading Group with traders talking and feeding back to me this is now ultra great to speed
AFT8 along that will be the time i can do this as it will be basically programming it for me to use and trade and so has to be super good or i wont use it. So doing the AFT Trading Group and actually being approachable and available and doing screen shares and chat and whatever – this is the perfect time to start – as the time is "right now".
Time and technology has come to intersect and allow this all to go ahead now – and this need not be dependent or tied in to some one brand or some one person – not even me – this can be a community group thing and many people can step up if they want to do things such as lead a sub group for a particular style of trading with AFT or coach or moderate a chat trade room.
AFT John
We also have AFT John on side a trading veteran and day trading coach with a genuine desire to impart knowledge with the same ethical compass – it has to work for people and don't charge them for the privilege of finding out.
There is a good possibility John will be working on using the AFT in his style and then leading some kind off trade along chat screen-share sessions also. And in fact there might well be others – it might even be you so that is super ultra massively exciting to think of that and the discord system allows multiple people to screen-share and multiple rooms/channels. AFT John weekly trading video is worth seeing in fact and has been demonstrating NYSE Session breakout system with hybrid Realtime external combined trading methods & filters.

Casual go easy – soak it up at your own pace
It will be casual theme – we don't want snake oil salesman and we don't want trolls, what we want is a relaxed productive constructive creative environment which dares to be 100% transparent and honest so we can address the sometimes difficult nature of the undertaking of trading and the toolsets which will be presented within the AFT Trading Group – we need people to really get to grips with the market and trading tools. knowing when to use them for example, cycles and the difference between low and high probability trading times that you can only learn by 1000s of hours of chart time really – but all this could be accelerated with a group and shared- no need to struggle on your own.

The power of self-honesty and transparency to grow as a trader
How about the honesty benefit of a group when you can post your trade ideas and results and engage in a proper creative constructive dialogue and pull in the experience of others. it can be very powerful but also a group with no structure or chaotic football fan type group would be a disaster -as would be having 100 traders talking about trade ideas like the mess "trading view" and "stock twits" is – everyone an expert and how to filter through all the rubbish all 99.9% of it – so I've heard.

Hope to see you there in the AFT Trading Group thank you for reading so much and sorry for the large narrative i cut it down by 50% this is the short version.

many thanks

Tom Leeson
AFT Founder & Developer