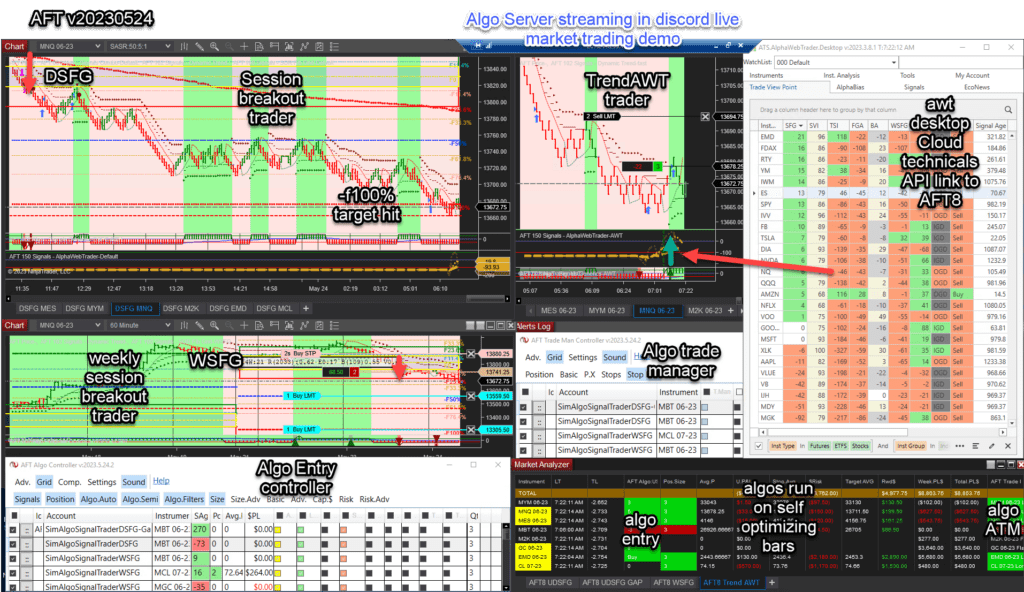 AFT8 Update Released AFT8 Version 2023.5.24.2 This is running on the algo server and in a soak test mode – no filters all signals 100% fully mode with a variety of modes – running here in the live market as shown in the attached image in the futures trading group
Note Version info… This is the last planned release before the official release… need to asses feedback from users prior to rolling to the officical RC1 version. so far we are on and going forwards unless someone feedsback with a show stopper.. The RC1 update which is likely to follow this release say for next week – will include a login and ATS Desktop Control Center – the plan to combine all the AFT,AWT,AST into 1 control center – this will replace the AWT Desktop. So 1 login to web or desktop 1 app for all.
Updating You can simply run the same installer in your downloads folder or get it again from the trading system downloads page: This installer never changes, its job is to get the latest AFT8 version out the clouds and install it. So once you have it you dont need to download again… AFT8 App updates will also popup a notification and allow in place installation on your PC assuming there is no overzealous Antivirus running to block it.
Notes:
System Turnkey Workspaces will be overwritten
System Settings and templates
N.B: This is why you need to rename your templates/workspaces to preserve your settings
AFT8 Changes