AFT8 Version 2023.9.12.3 released
Added in fixes to assist with NT8 behavior whereby orders freeze – usually with a Tradovate connection or the new NinjaTrade connections when using a trader copier! AFT8 has solved this so you do not need to reset your account and lose tour stats or re-install NinjaTrader 8, yet another reason why AFT8 is the best trading system for ninjaTrader

NinjaTrader frozen orders or locked up prop firm trading
Very rare but since the launch of the new NinjaTrader and connection options we have seen some trouble reported that required a restart or reset of NinjaTrader, in all cases the use of trader copiers and evaluation trading, especially with the new NT8 and Tradovate/NT New style connections. AFT trade safety system now monitors all accounts and orders for stuck orders and will cancel and remove them -and also on start remove and fix all stuck orders Usually NT Support will say reset the database and that works ok until you get more stuck orders- no need AFT8 will untangle it.
Best of Both Worlds web and desktop
It is recommended to always use Tradovate web, Rithmic web, CQG web, or NinjaTrader web alongside NT8. Hence, you get the best of both worlds and liquidate positions utilizing the web or even enter – AFT8 can then add in the exits on the desktop via the trade manager. AFT8 allows you to stop and restart NinjaTrader 8 and carry on from where it left off, this is not possible on other systems.
Trades Per Session
The automated trading entry system module to limit the number of signals taken in semi or fully-automated mode has been polished for signal executions for a daily/weekly session as a pre-cursor to trading session $ and % goals for win/loss limits.

Trade Signal Time to live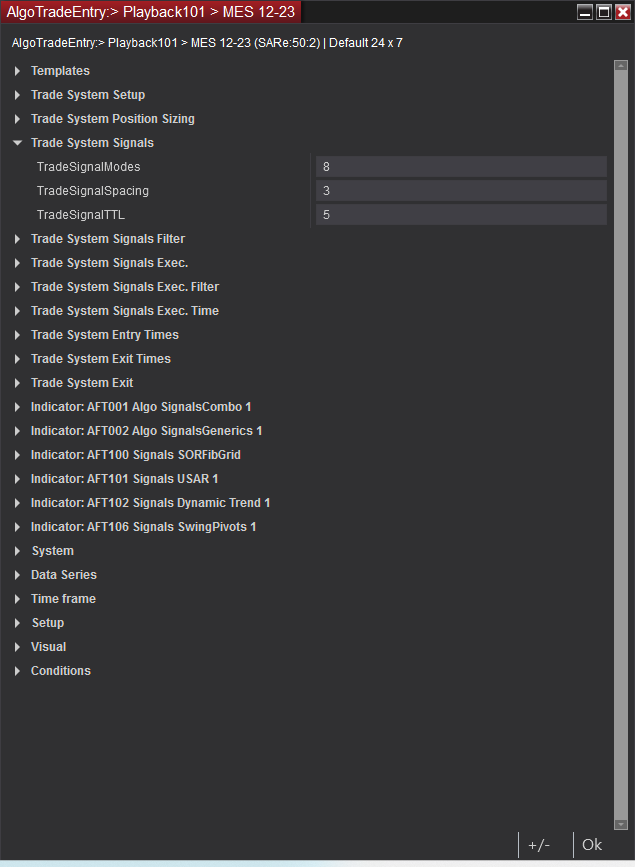 NinjaTrader 8 is a beast and genius but the caveat is it requires high spec low latency and usage of asynchronous methods to avoid foul-ups and missed or delayed trades, AFT8 has taken this to a new level with concurrency of signal queues and signal time to live -so the signal will be stored and processed using AFT8's parallel asynchronous trading engine – so the ticks and charts are not slowed down pending signal execution and order processing.
NinjaTrader 8 Playback Mode
AFT8 has been tweaked to allow better replay speed, but overall it is not designed for backtest and replay so speeds will result in slippage due to asynchronous parallel task signal processing which means several bars could print while the signal queue is being processed – going forward a dedicated strategy will be provided for backtest/optimization and replay which will provide synchronous on bar processing which is fantastic for low loads and testing modes.
AFT Workspaces
Split out into basic 001, 002, 003, and 004 VIP charts have advanced views to allow more accessible learning. The caveat is this update will remove 004 from your system and will need explicitly installing – There will be some traders with reports of missing templates and workspaces – these are found in your https://account.algotradingsystems.net/Secure/Downloads
Algo Entry/Workspace breaking Changes For Trend Trader
Please note the Trade Signal Modes have been reorganized to match a uniform order in AFT.
Mode4 is now Mode8 for USATTrend Algo Entry
AFT8 installer and workspace installer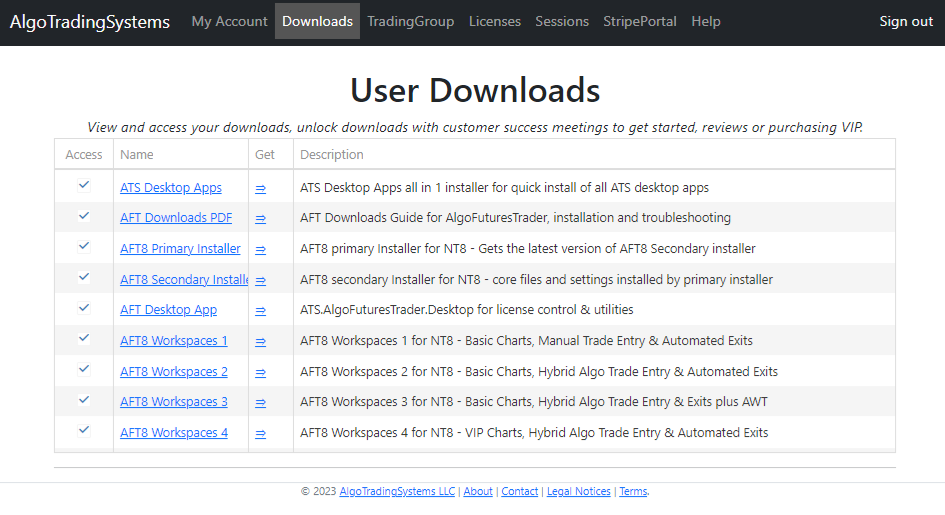 Your downloads are provided based on your access level: https://account.algotradingsystems.net/Secure/Downloads