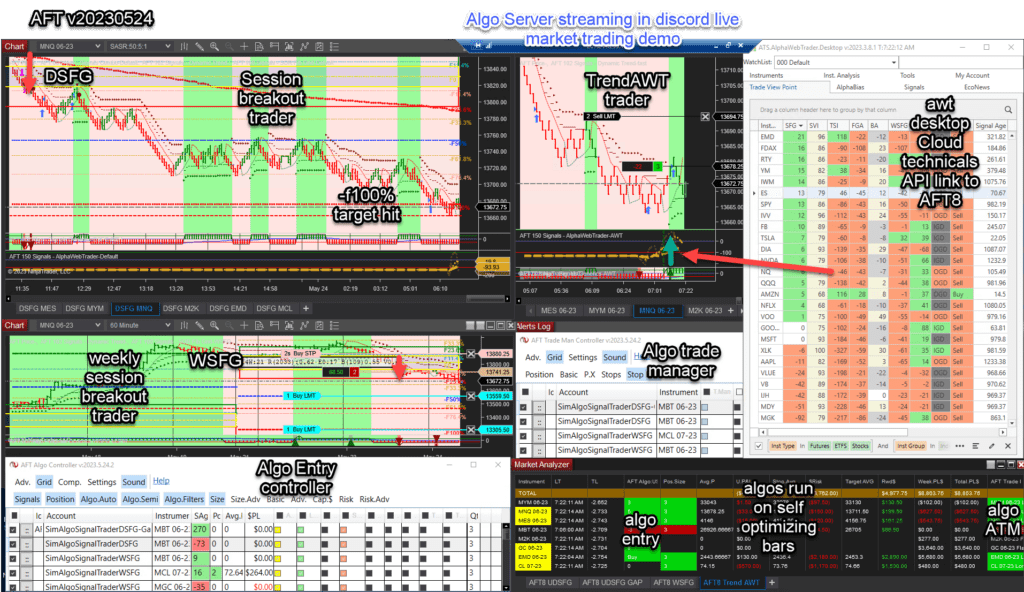 AFT8 hybrid automated trading system official public release is out, more updates and features to come. But for now this is the minimum feature set for fully auto, hybrid semi auto and manual entry modes with fault tolerant adaptive trade management, algo entry controller, algo trade manager controller, multiple algo system with baseline turnkey workspaces.
100% Free for sim, replay, back test & prop firm evaluation trading
AFT8 will popup an update message for the new version.
Download and get started with AFT8 for free
New Improved Algo Controllers Default Starting View



New Baseline Turnkey Workspace
AFT8-SFG Breakout Trader-0000C-Mix
includes indices oil, fdax, gold etc.
What will happen to the AFT8 beta version and licenses
Licenses will be set to expire in 5 days time
AFT8 Beta all prior versions will cease to function
Simply upgrade to the new version and use it
Temporary full feature live trading license features will be granted
Over the course of the next 2 weeks licenses will start to lock down features
Why should i upgrade from AFT8 Beta to the AFT8 official Release?
AFT8 Beta will expire
Grace period for full licenses
New features being released all time
Prior versions will expire after a period
Trader Education Training and ATS Trading Discord Group
More features are to come so all focus will go into coding and wheeling out the updates
Videos, articles and education material will be worked on after the dust settles
For interactive support 6amCT to 12.00CT join us in the ATS Discord Group
Introducing the ATS.AlgoFuturesTrader.Desktop app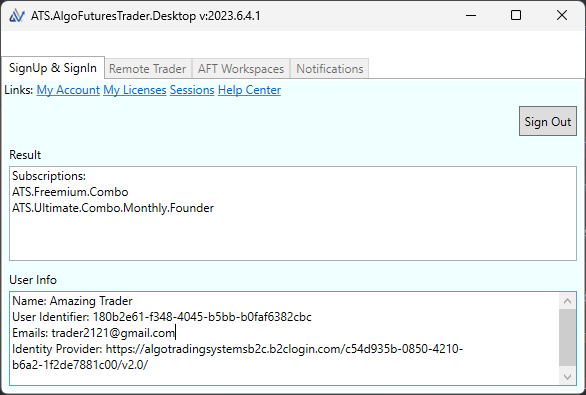 This should ideally be installed ideally before AFT8RC1 is installed.- pending.
AFT8 will attempt to install and require your permission to install
Install from here: https://algotradingsystems.s3.amazonaws.com/aft-desktop/Publish.html
The following prerequisites are required: .NET Desktop Runtime 7.0.2 (x64)
Direct link here: https://dotnet.microsoft.com/en-us/download/dotnet/7.0
AFT Licenses for live trading modes
The AFT8 live licensing is being enforced tentatively as we don't want to upset the boat and knock people off eval and live trading and miss a move and so on or foul up NT8. The system will instead appraise how NT8 is being used e.g. in Sim mode or live mode/eval mode and then look at your ATS licenses and if it cant reconcile a license to allow live account trading or eval trading or live performance account trading it will popup a message which can be saved and sent to support to work out – if the evaluation provider is supported or live licenses are applicable and work out a plan from there. Going forwards this approach will disable features after a timeout period etc. This way there is time for all to get it organized.
Please join us in the ats trading discord group for interactive support Q&A.