AFT8 Update Released AFT8 Version 2023.5.22.1.
This is the last planned release before the official release… need to asses feedback from users prior to rolling to the official RC1 version. Download AFT8 here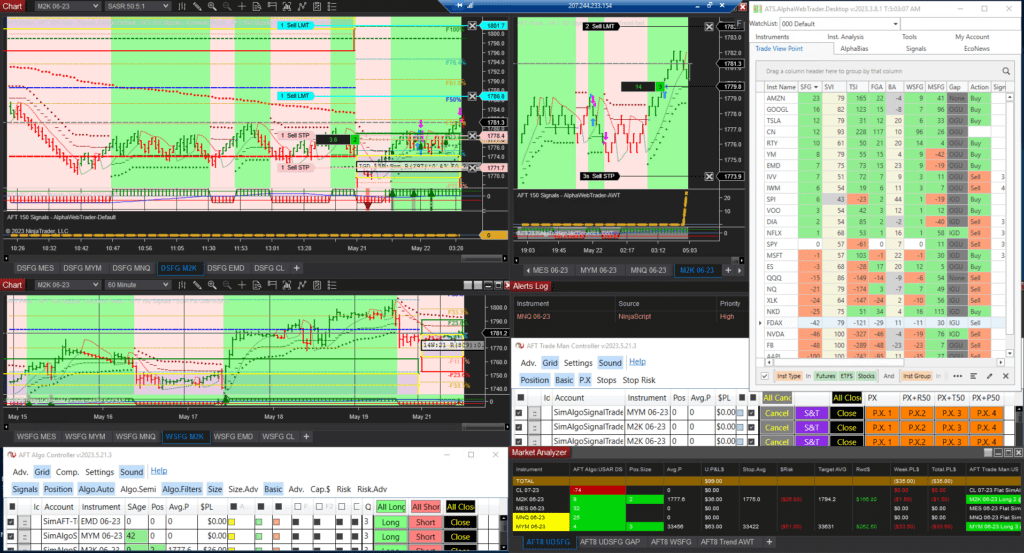 Notes:
1) Workspaces were pruned down to make it easier and templates – workspaces are "lite" by default via removal of high intensity cpu memory market grid for trendometer. The 2 tested working turnkey workspaces are: Turnkey Workspaces – semi/fully modes can be implemented
Baseline versions for manual, semi auto hybrid trading and fully automated testing/ tweaking to your tailor fitted versions.
a)AFT8-SFG Breakout Trader-0000A – multi-time frame view 1 instrument
b)AFT8-SFG Breakout Trader-0000B – most popular 4 instrument view
c)AFT8-Trend-Scalper-1000A – Proof of Concept version requires manual semi/auto hybrid use only multi-time frame – this would probably benefit from the AWT API link…in time

2)Algo entry and Algo trade manager was split into 2 parts – this allows 1 or many algos on the same account and instrument and 1 or many trade managers on 1 account instrument so allow quick switching of modes of use or blending combinations and rules.


3)The Keltner FibGrid – we evolved a classic by combining our proprietary "Fib Grid" into a keltner band so the grid/is moving and anchored to the mid bad.. this can be seen in workspace "AFT8-Trend-Scalper-1000A" for those traders experienced with divergence you can see some setups at the extremes as well as other patterns and trend bias filtering.
4)Trade Manager – the trailing stops have been reworked so that lastTrailstop has the same parameters available as the initial trailing stop. Also the layout and grouping has been reworked plus additional functions for exits and filter control from the algo controller GUI in realtime..