Trade on the right side of the market at the New York Session Open for day trading US equity indices Futures Nasdaq, SP500, Dow, Mid Cap and the Russell 2000 Small Cap Futures and micro Futures.
Pre-Market Analysis and the Session Open in the AFT Free Trading Room Mon to Fri 9 AM EST onwards.

Join us here at this link Live Pre Market Analysis and Commentary
AST Algo Signal Server Live Market Algo Trading System Charts
Live Market Commentary from – Pre Open and Session Open
Live Market Algo Streaming – 100% fully automatic systems
The 5 step Basic Day Trading Approach for NYSE Session Breakout
1) Get to the desk before the open… 9am EST or so – check news
2) Check the 4 main indices and see what happened prior… look to see what gaps are forming
3) Armed with that if the gaps are all different or all the same for example… GapBias
4)Look at the alphabias… etc understand the strength of the instruments going into the open to make a selection of what to trade
5) Trading 9.30EST to around 11.30EST 1 to 3 signals per day – Signal + filters
Algo Signals Server Live Stream 24/7
This screenshot is realtime live market trading in simulation accounts – providing the stats and the signals you can believe as fact as they happen in realtime and are video streamed so you can even watch on your mobile or desktop.
The very same algo signals are also sent to the web for you as well!!!
Live Market commentary takes you through the pre trade setups and position management so you can follow along.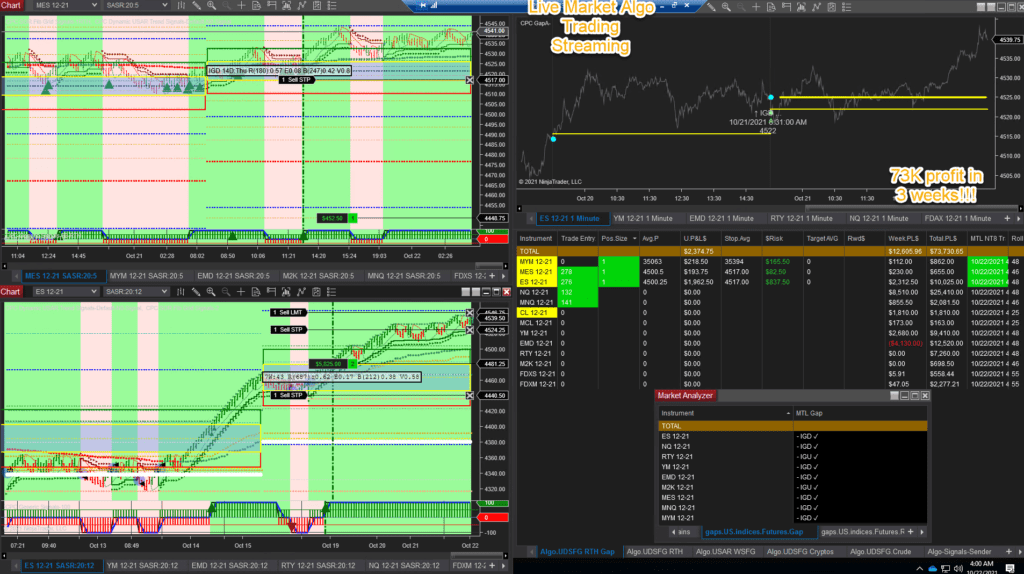 Trading & Risk 101

Trading is simple but not easy, please do it safely and don't rush, it takes a lot of practice & stoicism, wining and losing cycles are expected!  5 quick tips to consider! 
Impatience: FOMO - Fear of missing out, never rush to live money trade! Get consistent success sim trading 1 to 3 months then decide.
Trade Capital: Get funded to day trade futures with a trading capital provider, no need to use your funds learning to trade.
Micro Futures: Start with the smallest futures instruments such as Micro lots 1 to 3 lots to scale out
Risk: Always use the smallest risk position sizing possible for example 1% or less of trade capital per trade
Trade a plan: Don't chase the market or over-trade, focus on a systematic approach get consistent, trade the plan &  keep stats.
Learn & Trade risk free on the sim, demo account in NinjaTrader for free forever - AFT has no time limit, when you are ready and have proven to yourself that you are able to be successful at your own pace, you can consider live trading futures with AFT and NinjaTrader at your own discretion. Accelerate learning with a 1 to 1 day trading futures coaching but even then don't rush to live trade, put the learning into practice attend our  Free Futures Day Trading Group  for live market coaching voice and streaming at 9AM EST to 11.30 EST Mon to Fri.
Winning & Losing Cycles. You need to experience at least 1 to  3 months to see the typical cycles of the market and news cycles weeks of the months. You might start on a winning cycle on sim and suffer from recency bias, thinking its always easy to trade and rush to go live only to get hit by a losing cycle in live money trading and then pull the plug and freak out then you will miss the next winning cycle taking all the losers and missing all the winners the double whammy of trading! 
There is No short cut,  it takes time,  get a routine, practice and wait  until you are consistent month to month on the sim at your discretion and then consider live money,  or if you are certain sure you got the ability at the start, at the very least get funded to trade with a 3rd party trading capital so they take the risk...!  You may well catch a longer term easy phase of trading from the get go, and make good but eventually it will happen you will get a drawdown and a string of loses...losing days and even weeks may occur but if you the trader are consistent over the long term month to month you can succeed.
Training & Help Resources
Learn to trade successfully at your own pace with no time limits, use self-assisted support tools, visit the trading group, for group chat & support forum, or contact the support help desk.