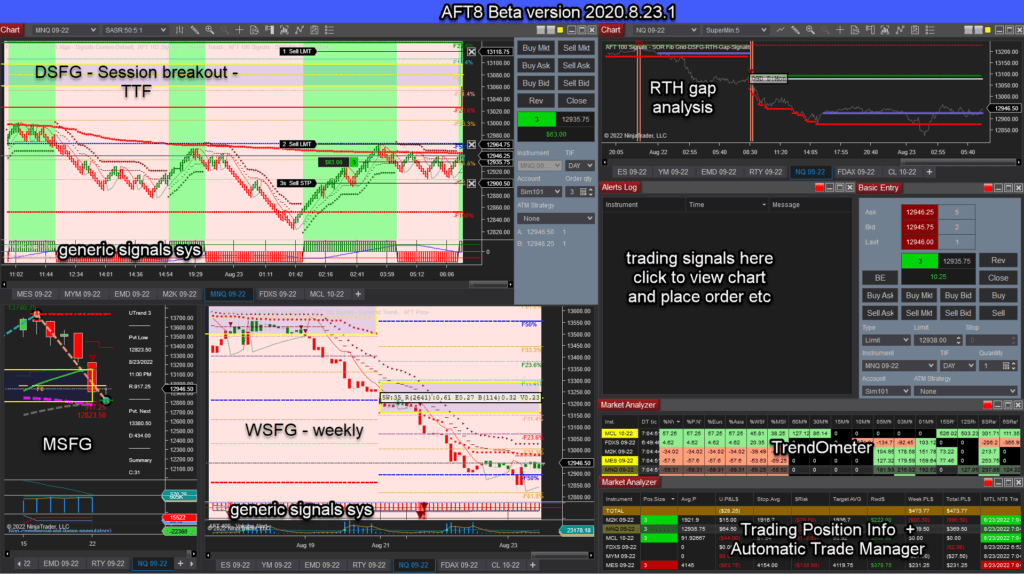 AFT8 Turnkey workspace trade flow manual entry and auto exits
AFT8 Trade workflow for hybrid manual trade entry with automatic trade management
1) signal arrives sounds and alert in Alerts Window
2) click the signal row – charts switch to signal instrument
3) check and decide to trade using chart trader
4) Automatic trade management places the exits
5) manage the trade with the visual orders with chart trader
Turnkey Workspaces Info – Multi-time Frame
Spoiler Alert – This displayed workspace of 4 charts with tabs, to one that shows an instrument in multiple timeframes.
Note: Workspace was made for a monitor size of 1920 X 1080 should in theory then fit 80% of screens.
This is a quite a bit different to what you have seen before but has advanced navigation features to allow you to flick around the charts at speed to a single view of instrument – with the others in view via the trendometer/ trading info and signals
Pending Turnkey Workspaces for AFT8
Session Breakout 4 Charts view Emini micro indices side by side view
Trend Scalper
more such as Mean Reversion and others
NEW Trading Group AFT8 Forum has the answers
Join us in the trading group and get the inside track on updates and discounts for elite members
Automation – hybrid and fully automatic trade management
100% fully automated Algo Trade Entry is enabled but turnkey workspace settings not yet released
Fully automatic Advanced trade Management is provided by the turnkey workspace
AFT8 is our best automated trading system for NinjaTrader
Why exactly is AFT8 is the best algorithmic trading system for NinjaTrader developed by MicroTrends Ltd?
AFT8 is a constant evolving product which will become AFT9 and grow with the times to stay ahead of the curve..
AFT8 server edition is some 5 years old first created to power a hedge fund system built by MicroTrends Ltd in 2017 and evolved all the way to 2021 where it was decided to splice off a subset of this fully automated swing trading cloud technology to deliver a lightweight retail AFT8 desktop version and merge in the concepts of AFT8 hybrid trading . Battle tested live on mini futures on commercial size account sizes and shrunk down to retail trading weight today for accounts from 20K up for auto and less so for hybrid pilot and machine.
AFT8 provides the best automated trading systems for retail day trading and swing trading Emini Micro and popular Futures ever developed by MicroTrends as of 2022.
AFT8 versus AFT7
AFT7 which is now just a classic minnow and fond memory for those who have taken the plunge and changed to AFT8.
AFT8 is an evolved system containing a superset of AFT7 and a hedge fund system trading engine
AFT8 has more algorithmic trading systems and more multiple timeframes

Session Breakout/ Gap Trader

Swing Trend Trader
Day trader Trend Scalper
Mean Reversion
Pending

News Trader
Cloud Trading
AI
and more…

AFT8 also integrates with AlphaWebTrader API link for realtime trade filters.
AFT8 is a true automated technology day and swing fault tolerant -the most advanced available for NinjaTrader
Desktop Hybrid controls for desktop trading
Web Remote Controls for fully automated trading
Compare AFT8 versus AFT7 and other vendor products view the developer details of Algorithmic Trading systems to understand why this is the very best trading system brought to you 100% free for sim…
AFT8 trading systems stats
AFT8 server edition has been providing baseline trading system stats since the trading group was stated in 2021 – so the same systems are available int the AFT8 retail system
AFT8 Roadmap
1) AFT8 is a Beta available to traders who can self support – so we focus on delivery.
2) AFT8 will be released as a series of ongoing updates over 2022 – notifications will be made
3) Turnkey workspaces and examples will be provided
4) System optimization from the baseline will take place and more stats/systems provided.
5) Guidance and articles will be provided after AFT8 is ready for public release
What about AFT7?
Existing lifetime members will be able to use it for as long as NinjaTrader 7 platform is supported and available by NinjaTrader LLC.
AFT7 will be maintained for Lifetime purchasers and in 2023 will taken down as purchasable on lease and no longer supported or maintained.
Connect to AFT for updates and info